Thank you for your interest in becoming a Participating Business! We are really excited for this project and can't wait to start collecting different stamps from participating games in our passports as well. These passports have a thick, durable leatherette and gold-foil cover. The pages are thick, so that stamp ink won't bleed through and ivory colored for a more antique look. The passports provide space for 56 games! The front page of the passport has a link to WeTheEnthusiasts.com, so the list of participating businesses can stay up to date and customers can make sure to bring their passports with them when they come to play your game! They might even go out of the way to your business, just so they can collect your stamp!
If you have a special stamp for each of your games, register above. If you are just curious and would like to know more information, contact us at info@curiousescaperooms.com
FAQs
So how does it work?
Once you have your game stamps, register below. After you register, your company's name and information will be added to the front page! When passport-holders come and play your participating game make sure to give them a stamp if they request it! Fill out their escape (or lack of escape) time and then circle either "Rem." (for Time Remaining ex. 15:02/60:00 remaining) or "Total"(for Total time ex. 44:58/60:00 total). Let us know if you add more or remove games or locations that will have stamps. And that's it!
What is required?
Just have a special rubber stamp for your games!
They must be 1.5″x 1.5″ or smaller. We recommend getting a different stamp for each game, so that your customers will want to come back and collect stamps from all your games! …And then return when you have a new game!
Do stamps need to be customized?
Nope! You are welcome to stop in a craft store and pick up different stamps that represent each of your games. For example, you couple get a beaker stamp for your lab game or handcuffs for your jail house, etc. This is a great option if you do want to be added on the website, before custom stamps are made, however, we think it is way more fun and enticing for passport-holders if escape rooms each have their own custom and special stamps!
Where can I get custom made stamps?
We got ours done through MinutemanPress.com which has local franchises internationally. We designed our stamps ourselves through photoshop, turned them into vectors, and sent it to them. If you need help designing them, I'm sure they could help you.
We got handheld rubber stamps, so that
Our Minuteman Press estimated 2-5 days to make 1.5″ x 1.5″ handheld stamps and were only $17/each. If there is no Minuteman Press near you, check out a local printing company and see if they make custom stamps! Many have also used Rubberstamps.net, Vistaprint.com , Etsy.com and HolmesCustom.com.
The Case for Hand Held Stamps
(Please note: this was written pre-covid-19.)
While the idea of getting the heavy duty self inking stamps that go Kah Klunk! when you press it down is incredibly satisfying, we recommend getting simple hand held stamps.
We like to offer stamping the hands of non-passport holders and passport holders alike! The hand held stamps are more comfortable for this use. We've already seen customers take pictures of their hands and post them on social media, so it's another form of marketing!
We also love recommending places for our customers to go to after they've played. Its nice hearing from local establishments that people are coming in with our stamps on their hands! So we've actually started collaborating with local restaurants and coffee shops. They're offering discounts for our customers when they come in with our stamp on their hand!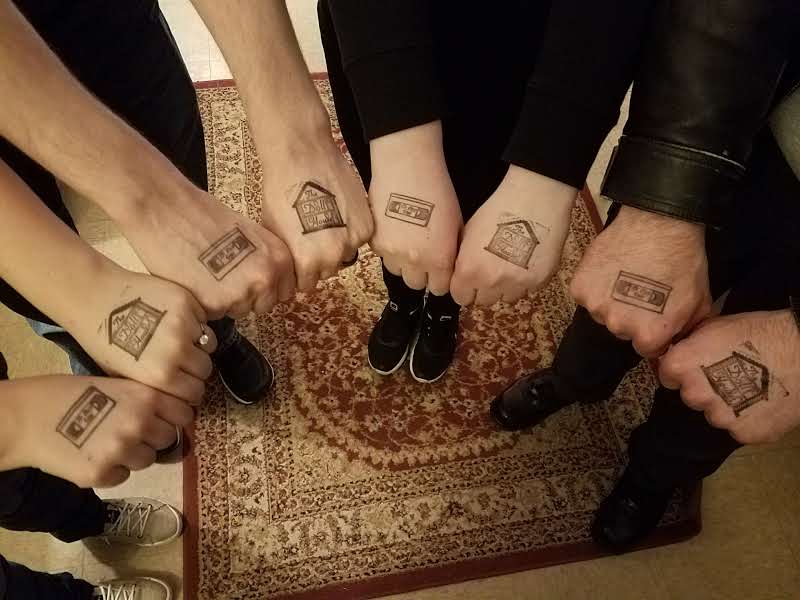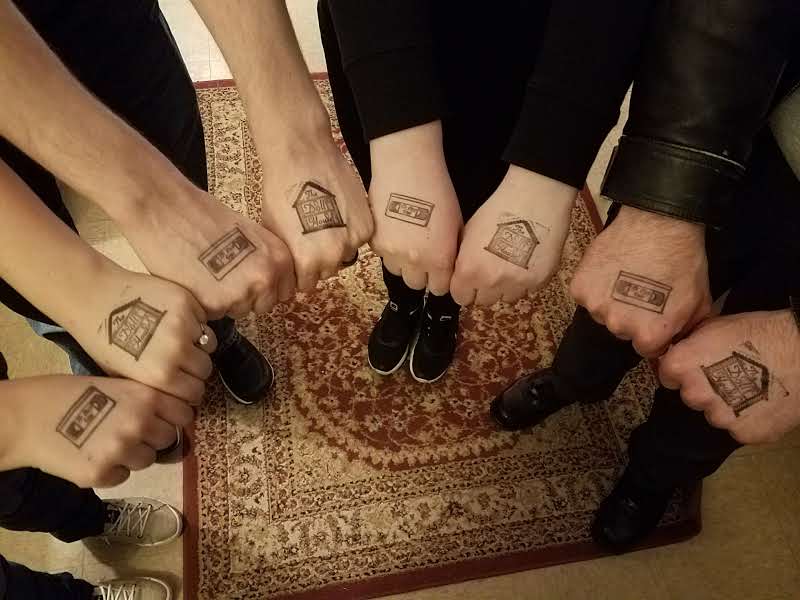 Is there a registration fee?
Nope! We have covered the cost of creating and maintaining the website.
Will I need to give out free or discount swag for being a participating business?
Nope! We will not require anything more than your registration and stamping passports. If you'd like to do promotions, discounts, or give out swag in reward or relation to passport holders, that is up to you! The beauty of this project is that we're trying to keep it as simple as possible. However, if you do do it, please let us know and we'll promote it!
I'm already a part of an ER passport program, can I still be a part of We the Enthusiasts?
Absolutely! We love regions that have created their own local passport program. Why? Because they all have stamps! It's great for escape room touring! There is no exclusivity contract with us. We would love our directory to be of every escape room in the world that has passport stickers or stamps! But we would love your consent to publish it and for your promise that you will also stamp We the Enthusiasts passports. 🙂 If you are interested in starting an escape room tour, feel free to use our We the Enthusiasts passports to support it. Enthusiasts will see that your region has a ton of game stamps and they will plan out their next escapecation to your area! It's a win-win. As mentioned above, there are no other strings attached to our program.

Do you have official flyers or virtual badges we can use to advertise that we are part of the program?
Go to Business Owner Resources to download the files. You can print out the flyers and put in your lobby. You can put the virtual badge on your website to show that you have passport stamps for your games!
You can also now purchase 100 packs of our business cards.
Do I need to sell We the Enthusiasts passports to be a part of the program?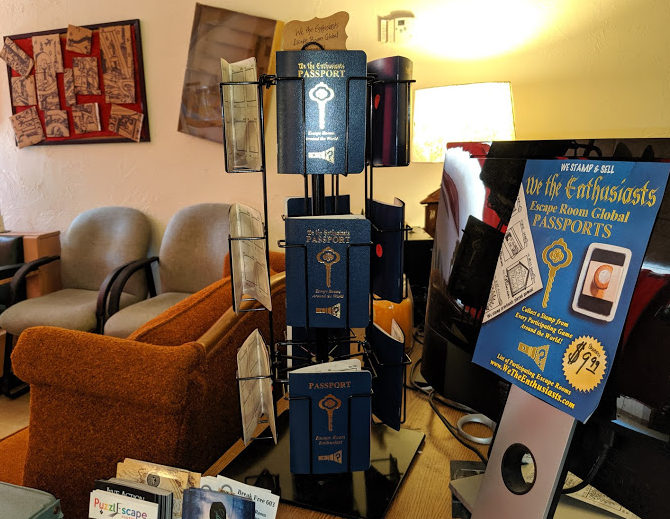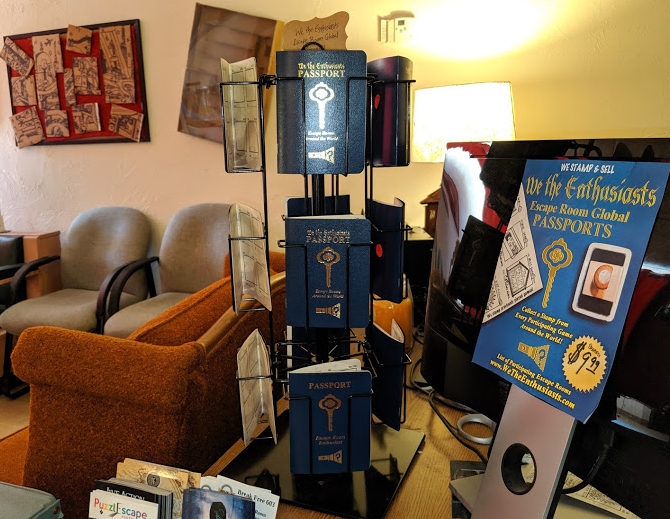 Selling Passports
You don't need to sell passports to be a "Participating Business," but you are welcome to! Here, you will see the bulk price with a 50 minimum purchase. When you do so, we will add your business' name and location to our front page of "Where to buy passports in person." We sell our passports to individuals for $9.99, but you are welcome to set your own price and sell it in person and or online. If you already have your own passports or would like to design your own, you are still welcome to be a participating business! Just do not use our art work or let us know if you'd like to include the same "Participating Businesses" front page.
Wholesale Passports for Resale by ER Owners
$4.99 – $6.49
Official We The Enthusiasts global escape room passports. Leatherette Metalic Foil covers and ivory colored pages with rounded corners. Minimum 50 passports per bulk order.
Description
All colors are paired with a gold foil logo, except black with silver foil.
You can select variety pack* and we will give equal (as possible) of all currently available colors at the time of your order. Please check to see if any passports are only "available on back order," meaning it is out of stock. If a color or multiple colors are out of stock, we will inquire if you would like the order to be split evenly amongst the remaining colors or if you'd like to  wait until the we have restocked the color(s), unless otherwise noted in your comments. If you'd like a different amount of each color (or not all colors), select "variety pack" and include it in your order comments.
Collect unique stamps for every escape room you play! These durable leatherette bound booklets are a beautiful way to keep track of your games. This is the perfect holiday gift for an enthusiast!
Gold or Silver foil "We The Enthusiasts" cover
Leatherette bound
Thick, ivory colored pages
Unique passport ID
Stamp boxes for up to 56 games.
Space for Completion Times
Lines for additional notes
Be the 1st in your state/province or country**
to buy our passports wholesale:
GET 10 FREE ADDITIONAL PASSPORTS ON YOUR 2ND ORDER!
Pricing:
at least      50 passports: $4.99/each
at least   250 passports: $4.75/each
at least   500 passports: $4.50/each
at least   750 passports: $4.25/each
at least 1000 passports: $4.00/each
at least 1250 passports: $3.75/each
Please allow 1-3 days for processing. Minimum 50 passports per wholesale order. For "back orders," please allow 1-3 months for processing, but we will try to complete your order as soon as possible.
Have rubber stamps for each of your games? Register Your Business here! FAQs to Become a Participating Business
Where do we ship? Click here to see the full list.
* Please note: If a color is out of stock, it will not be included in your variety pack order, unless you leave a comment or message us that you'd like to wait for shipment till it is restocked. If one color's stock is lower than the rest, we will provide what we can of that color and more in others. 
** We The Enthusiasts reserve the right to discern the qualification of first in a state/province/country/region. It is generally decided by if a new section must be added on the website for your company and others in your area. If you have any questions on whether your location would qualify for this deal, please contact us at info@wetheenthusiasts.com.
Additional information
| | |
| --- | --- |
| Weight | .866 oz |
| Dimensions | 5.5 × 4.25 × 0.1 in |
| Color | Variety pack: equal amount of all available colors, Navy Blue, Black with Silver Foil, Forest Green, Bright Red, Maroon |
| Thickness | 52 game boxes, 100 games boxes |